Live Music on Whidbey Island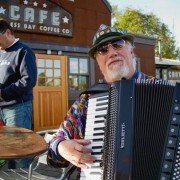 Nothing complements your time on Whidbey Island quite like great evening of live music. Whether you prefer a performance of classical or baroque music by our our own Saratoga Orchestra,  one of our several annual music festivals that draws audiences and bands from across the country, or an evening with one of our many talented local artists at our local venues, you'll find something that suits your taste on Whidbey Island.
Regular Live Music Venues
Bayview Taproom – Bayview
The Taproom at Bayview Corner features local acts every Tuesday from 7pm-9pm.
Bloom's Taste for Wine and Art- Bayview
Blooms wine tasting room features local acts every Sunday evening from 3pm-5pm. They also host an open mic on the second Friday of every month at 7pm.
Flyers Brewery – Oak Harbor
Flyers offers regular live music. Keep up with their schedule on their facebook page.

Ott & Murphy Langley Tasting Room – Langley
Ott and Murphy features live music during their Friday and Saturday evening cabaret. They usually feature two seatings per night, reservations are recommended.
Front Street Grill – Coupeville
Front Street Grill has live music every Wednesday at 6pm. Check their calendar on their website.

Orchestras
Whidbey Island Center for the Arts
WICA offers many live music performances throughout the year that feature talented and diverse artists. Keep up with their schedule on their website.
Music Festivals
Holland Happening – May
Oak Harbor proudly presents Holland Happening, an annual three-day celebration, usually held in May that honors the unique Dutch Heritage of Oak Harbor.
South Whidbey Acoustic Music Festival – September.
Past performers include Gloria Ferry-Brennan, Joann Quintana Band, Siri Bardarson, and Beverly Graham. More info can be found on their facebook page here.
Djangofest Northwest-September
North America's Premiere Gypsy Jazz Festival.
Oak Harbor Music Festival – Early September