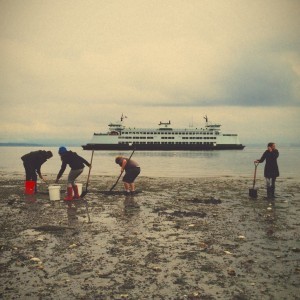 Whidbey Island Ferry Tips
Living on Whidbey island is great, from the marine island climate, the amazing culture and community, the beautiful beaches and scenery, and so much more, but if there is one drawback it is definitely having to wait in long ferry lines trying to leave or get back onto the island. Whether you're sailing on the Mukilteo – Clinton Ferry, or the Coupeville, Port Townsend Ferry, if you try to sail during peak times and peak seasons, you're probably gonna spend awhile on the dock. Having lived here all my life, I can tell you that there are in fact several ways to minimize your ferry frustration and plan your trips to avoid the long Whidbey island ferry wait times. Without further ado, here are my tips.
Click here for the current ferry schedule
1.) Don't Travel During Peak Ferry Traffic Times
This may seem like a no brainer, but if everyone followed this rule, then there wouldn't be any peak traffic times, would there? Below are the peak times you should absolutely avoid attempting to drive a car on the ferry.
Mukilteo/Clinton Route
Click the buttons below to see what travel times are most likely to result in long ferry waits.
Leaving Clinton after any weekend in the Summer or holiday weekend can be a 3 hour wait, so either plan to leave earlier in the weekend, or stay a day later!
Leaving Mukilteo after any Friday in the Summer or prior to any holiday weekend can be a 2-3 hour wait, so either plan to leave earlier or later than the typical times.
Click the button above to view real-time ferry traffic.
Port Townsend/Coupeville Route
This route is very tricky because it can be busy at strange times and empty when you'd think there would be a lot of traffic. This route is also subject to many cancellations due to tides and weather. Luckily, you can make a reservation for this route which is a must if you plan on sailing, especially in the summer.
Ferry Reservations for this Route | Ferry Cancellation Alerts | Peak Travel Times
2.) Walk On, or Ride On
Foot passengers, cyclists, and motorcyclists will always be allowed on the first available whidbey island ferry sailing after they show up at the dock. If you can avoid driving on and utilize alternate transportation once you arrive on the other side, you'll avoid any potential long ferry wait times.
3.) Look online for Wave2go passes
You can often find regular ferry commuters looking to sell their Whidbey island ferry passes online. You can end up paying quite a bit less than you would normally.
While you may easily spend $50 bringing your family over to Whidbey and back, you could purchase a Wave2go pass with several trips left on it for around $20.
4.) Drive Around
I hate to say it, but sometimes your best option is to avoid the whidbey island ferry altogether. This isn't really an option if you're on the peninsula, but you can easily head up north and drive across the Deception Pass bridge if you want to avoid the Mukilteo/Clinton ferry. It really depends on where your ultimate destination is, and how worried you are about sitting in line at the ferry. There have been plenty of times I decided to avoid long waits and make the drive around. It's a beautiful drive, it costs roughly the same in gas as riding the ferry, and it's still a very scenic trip. Your call!
5.) Sit Back, Relax, and Wait
Lately, Whidbey island ferry hassle has been getting to me less and less. Sure, it can be frustrating to have to sit around and wait two hours to travel a few miles across the water, especially when there is a crying baby in the back seat, but hey, you can always get out of the car, stroll over to the edge of the water and stare out at one of the most beautiful places in the world. Heck, you could also head into Ivarr's or Diamond knot and drink the ferry wait away.